Kanyakumari Tourism
| | | | |
| --- | --- | --- | --- |
| | 0 | | Reviews |
About Kanyakumari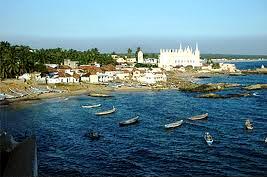 Breathtaking!! Awesome!! Astounding!! Striking and even more, but all the words and phrases seem very less to describe the beauty and splendor of Kanyakumari. Being located on the southernmost tip of the country, it is one of the most spectacular cities of India. Popularly known as Cape Comorin, Kanyakumari is great place to explore and one should sure go to this astonishing and exotic place once during his lifetime. Kanyakumari is spreaded over an area of about 25.89sq.km.and Tamil Nadu of India is that fortunate state that gave him place. This wonderful city of India is spotted with numerous attractions to make an unforgettable place in the heart of its visitors.
Kanyakumari is blessed with favorable climate to make its visitors more comfortable and relaxed. This awesome city is also renowned for having merging point of Indian Ocean, Bay of Bengal and Arabian Sea as its one of the main attractions. Not only famous for natural beauty, but the spectacular city is also well-known for its exclusive rich history and culture. Here, in Kanyakumari, you can witness a perfect blend of all the religions like Hinduism, Islam and even Christianity. Therefore, you can see here lots of temples, churches and mosques as the major tourists' attractions.
In reality, Kanyakumari retained its name from Kanyakumari Amman Goddess. She was the main deity of this city and she is mainly worshipped in this great city. People of Kanyakumari are very helpful and polite and generally, converse in Tamil language. The main attractions for tourists in Kanyakumari are exotic beaches, magnificent temples, exquisite falls, gorgeous churches and lots more.
Therefore, what to say about Kanyakumari!! The most amazing place to captivate your heart and make this vacation of yours full of excitement and pleasure and but of course, unforgettable throughout the life. I am sure those who used to visit Kanyakumari once will never miss the chance to visit it again and again.
Kanyakumari Fast Facts
City: Kanyakumari
District: Kanyakumari
State: Tamil Nadu
Country: India
Famous for/as: Backwaters, Beaches
Best Season: Oct - March
Summer: 22 to 35°C
Winter: 21 to 34°C
Rain: Jun to Sep
Area: 25.89 km2
Altitude: 300 m (1000 ft)
PIN Code: 629 xxx
STD Code: 914652
Kanyakumari News Papers
Tamil: Daily Thanthi, Dinamalar
English: Business Line, Chennai Online
Languages: Tamil, English
15 Places to Visit in Kanyakumari