History of Kanyakumari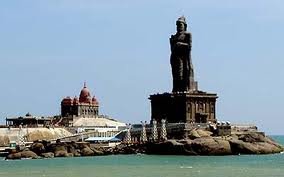 Kanyakumari has gone through very interesting and gives an idea of pre-historic events which the city had experienced. Formerly, the city was supposed to be the main cultural center and was popular as the Alexander of the east. Just by seeing architectural and literary domain of Kanyakumari, you will get complete overview of the influence of various religions like Islam, Christianity and Jainism too. Also, the city went through the ruling period of most popular and effective rulers of South India -Cheras, Pandyas, Nayaks and also Chola.
British rulers liked the place so much that they adorned the city with the title "Cape Comorin". It was believed that they renamed the city as they feels uncomfortable in pronouncing the local name of the city. The most interesting legend connected to this awesome city is that Goddess Parvati, in epitome of Kanya Devi, got ready to marry Lord Shiva. But, unfortunately, Lord Shiva did not reach there at decided time and the marriage ceremony could not be completed. Therefore, the cereals and rice needed for the marriage ceremony remained as it is. That is why local people still believes that buying the stones resembling rice and cereals are the artifacts of that auspicious wedding that could not be completed. Hence, the city got its name "Kanyakumari" and so, Goddess Parvati in form of Kanya Devi is worshipped here.
15 Places to Visit in Kanyakumari