Agartala Tourism
| | | | |
| --- | --- | --- | --- |
| | 0 | | Reviews |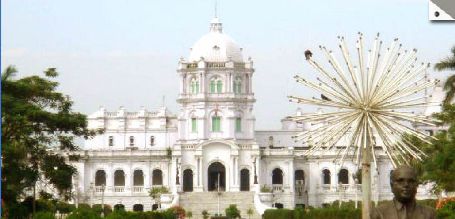 About Agartala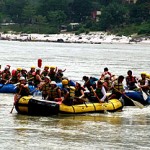 Agartala, the capital of Tripura, is the second largest city of North-Eastern India and is situated at a distance of just 2km from neighbouring Bangladesh. Formerly, the city was known as 'New Haveli' before it got rechristened as 'Agartala'. Nowadays, this relatively low-key city boasts of being an ideal tourist destination due to its near perfect natural beauty, rich cultural diversity and pleasant weather.
Historically, the capital city of Tripura was at Rangamati, the modern day Udaipur in South Tripura. Later in the year 1849 AD, Maharaja Krishna Kishore Manikya shifted his capital to present day Agartala. But it was Maharaja Bir Bikram Manikya Bahadur who is considered to be the founder of the modern city of Agartala.
Basically, the city faces weather of moderate intensity – neither very cold, nor very hot. The ideal time to visit the beautiful city is between the months of October to March. Towards the extremes of this period, one may experience a few showers, but they are quite refreshing. Agartala is easily accessible through all the three routes – Air, Road and Rail.
In the broader sense, as a tourist place, Agartala has a lot to offer ranging from magnificent palaces, archaeological sites and wildlife haunts. The main credit for the modern image of Agartala goes to Maharaja Bir Bikram Manikya Bahadur. He took the initiative to give a new look to the city by completely re-organising its infrastructure with newly established roads and buildings. Shopping in the bustling market lanes of Tripura is also a delight. The exotic handcrafted artifacts made of bamboo, cane, clay and palm leaves are renowned for their beauty, elegance and exquisite designs.
The cuisine of Agartala is well-known for its diversified choices, both vegetarian and non-vegetarian with high nutrient value. Rice dishes like Maisa, Mami and a key ingredient of fish called Berma are the main culinary attractions.
Agartala Fast Facts
City: Agartala
District: West Tripura
State: Tripura
Country: India
Famous for/as: Hill Station
Best Season: Sept - Apr
Summer: 24 to 36°C
Winter: 6 to 28°C
Rain: July to Oct
Area: 58.84 km2
Altitude: 12.80 m
PIN Code: 799001
STD Code: 0381
Agartala News Papers
English: Tripura India, Tripura Info
Bengali: Daily Desher Katha
Languages: Bengali, English
15 Places to Visit in Agartala