History of Rameswaram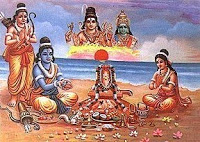 The history of Rameshwaram states that the town was ruled by several dynasties in different centuries. In the 15th century, it was under the reign of Pandya Dynasty and then Nayaks of the Vijaynagar Empire ruled here till the 17th century. Rameshwaram acquired glory in the reign of the Sethupathis who were the earlier chieftains and were the lover of art and architecture. They offered high funds for the development and architecture of the Rameshwaram Temple.
According to Hindu mythology, it is said that on his return from Sri Lanka, Lord Rama along with his wife, Sita decided to offer prayers to Lord Shiva to get rid of the sin of killing Ravana, the grandson of Brahma. Thus, Rama asked Hanuman to go to Mound Kailash and to bring the lingam. But he could not reach on time, so Sita caricatured a lingam of sand and performed the puja on time and this was known as Ramalinga. When Hanuman retuned with linga, Rama installed it near the Ramalinga and it was named as the Vishwalinga.
10 Places to Visit in Rameswaram