Culture of Srinagar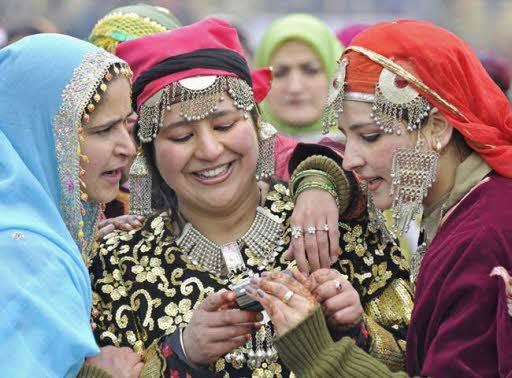 People
For years, Srinagar has impressed many people from far and flung with its charming beauty. So, there is no doubt that many people from various parts of the earth had been coming for several years in the past. In the current times, people from other parts of the country are not allowed to settle in the entire Jammu & Kashmir state. The disturbing acts events by some terrorists and unsocial factors have made the place somehow unfavorable for a peaceful living. But people here are tolerant and believe living in peace. This is the reason why visitors are coming again and again in Srinagar in large numbers.
Language and religion
The majority of people here are Muslims while some Kashmiri Hindu Pandits are also the local people of Srinagar.
Local Festivals and Art and music
Srinagar is a location known for its characteristic type of traditions and culture. Its eye catching cultural characteristics can be visited in crafts and other types of local arts. The handicraft and art is the mix of Persian, Mughal and Tibetan art forms. Srinagar is the place for different Kashmiri dancers and singers who perform in the different art houses and theatres of the town. Several groups of the Qaw Wali exist here and they have their own customized musical devices.
Food
The traditional food of Srinagar is rice. It is a leading ingredient in most foods offered in Srinagar and the valley is prominent for its unique system of cooking by mixing vegetables with meat.
Things to do in Srinagar ( 22 )