Srinagar Food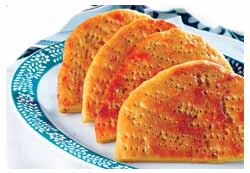 In Srinagar, you can get Kashmiri foods in all the restaurants. The Lal Chowk is the crowded area which has some fabulous places, where visitors can taste the Kashmiri regional food. In many of the large hotels and restaurants, people can take international, north Indian and Chinese recipes. Some of the most familiar Srinagar hotels are Tafree with multi food items; Ahdoss is unique for its Kashmiri cuisine, and Mughal Darbar restaurant. Restaurants of Sringar welcome all sorts of visitors. There are lawn cafes, customized closed-room restaurants and five star hotels.
Srinagar is prominent for its different types of breads. There are "baqerkhani" and "sheermal" breads which are normally taken in the morning at feast time. The other items are "naans", "kulcha" and "lavas".
Vegetarian and Non-Vegetarian Cuisine:
Srinagar is famous for Kashmiri non-vegetarian foods. Some of the eminent Kashmiri non-vegetarian cuisines are meat balls known as "rista". Visitors can have "tabak maz", mutton curry, fried red meat ribs that are rich in spices. For the vegetarian tourists, there are recipes like paneer and cooked potato dishes. Many tourists are eagerly coming to this place to take taste tasty cuisines. Visitors mostly prefer non-vegetarian delicious cuisine.