Mysore Tourism
Mysuru, Maisūru, Mahishūru
| | | | |
| --- | --- | --- | --- |
| | 0 | | Reviews |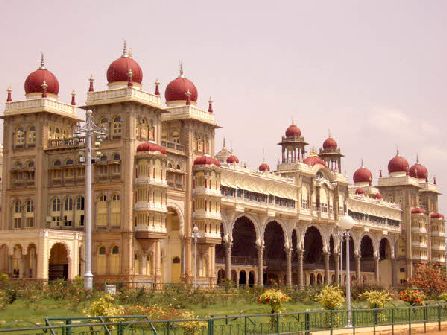 About Mysore
Mysore in Karnataka is the best reason to explore this state of India. Mysore is not commercial capital of Karnataka but it is main cultural hub of the state. Therefore, Mysore is one of the favorite tourist destinations of the entire South India. Popularly, Mysore is also referred as the "City of Palaces". Other than tourist spots, Mysore is also rich in its culture, ancient history and heritage.
Located at 770 meters above the sea level, Mysore is easily accessible as it is situated only at the distance of 139 kms from the capital city – Bangalore. Historical importance of the city could be easily witnessed by the fact that there are myriad of ancient palaces and gardens situated in Mysore. Wodeyar Maharajas were the main rulers of the city and under their ruling period only, the city got so many palaces built. A perfect blend of traditional touch and modern style could be seen in many aspects of the city.
The best time to visit this awesome place of India is during October to March though the climatic condition of the city is enjoyable and nice throughout the year. Mysore is highly stuffed with oodles of tourist spots in form of magnificent temples, historical museums, massive forts, magnificent palaces and lush gardens. Thus, there is no chance for tourists to return from there without filled with lots of cherishing moments. Few of the must-see places in Mysore are Mysore Palace, Brindavan Gardens, Chamundi Hills, Lakshmiramana Swami temple, Chamundi Temple, and much more.
If we talk of the Mysore culture, then the people are too moderate with the Kannad language on their tongue for mutual conversation. The local folks are highly skilled and are very clear from the popularity of Mysore silk, sandalwood oil, carved items made out of sandalwood and rose wood, and much more.
Mysore Fast Facts
City: Mysore
District: Mysore
State: Karnataka
Country: India
Famous for/as: Fort, Monuments
Best Season: Sep - Mar
Summer: 22 to 39°C
Winter: 13 to 31°C
Rain: Jun - Sep
Area: 128.42 km2
Altitude: 763 m (2503 ft)
PIN Code: 5700xx
STD Code: 0821
Mysore News Papers
Kannada: Andolana
English: Star of Mysore
Hindi: Sudharma
Languages: Kannada, English, Hindi
15 Places to Visit in Mysore