History of Khajuraho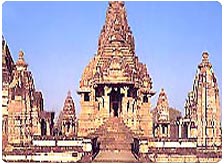 Khajuraho, well-known as a heritage of India, has gone through very interesting history. The glorious past of the city has linked up with so many myths and legends and really, they sound very interesting and appealing to listen again and again.
Khajuraho was supposed to be constructed by the Chandella rulers in the between the era 900 to 1130 AD. It is not like that all the magnificent temples in Khajuraho were built by one Chandella ruler but it was ongoing task and each and every Chandella ruler has created atleast one temple in Khajuraho. How the city got its name!! It is as simple as that the abundance of palms trees in the city and almost all the entrance gate was edged by two palm trees. The Hindi version of "Date" is "Khajura" and this is how the place got its name!
According to one legend, it was believed that Moon God got attracted towards the widow daughter named Hemavati, of the king and she devoted herself to him just to retain the dignity of her father. Chandravarman, the son born to widow Hemavati as a result of being enraptured by God Moon, became the first ruler of the entire Chandela dynasty.
As the time passes and the Chandela dynasty came to an end, the Khajuraho went into the severe destruction which was later discovered in early 19th century.
15 Places to Visit in Khajuraho