Culture of Khajuraho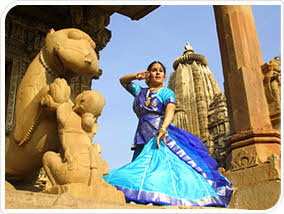 People
It is quite true to address the people of Khajuraho as religious and firm follower of old tradition and culture. They are also very humble, kind and friendly with the tourists from all over the world. Therefore, people of Khajuraho may also become one of the reasons to visit the city.
Language and Religions
Hindi is the main spoken language in Khajuraho and commonly seen on the tongue of majority of people of the city. Other used language in the city is English which is rarely spoken by the local people.
The main religions followed in the city are Hinduism and Jainism. On the broader sense, the people belonging to these two religions could be seen in the city but the people of all the religions residing here lives with great harmony altogether.
Food
Cuisine of Khajuraho is having great international influence just because of myriad of tourists from all over the world. One could get here Italian, Israeli, Chinese, Continental, Japanese and so on. Indian cuisine of the place is also quite marvelous and for pleasuring your taste bud with proper Khajuraho food, then just try luxury home stay!!
Local festivals, art and music
Though the city celebrates almost all the key festivals of Hindu, yet there are few festivals celebrated with full of zest and bliss in Kajuraho. Dance festival of Kajuraho is among the main local festivals that takes place between 25th February to 2nd March of every year. Mahashivratri is also celebrated with great fervor and enthusiasm in Khajuraho.
Things to do in Khajuraho ( 10 )