Fort in Agartala, Tripura
Must See
1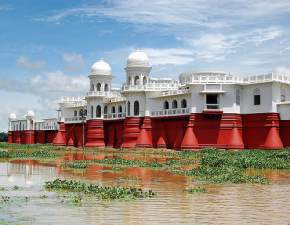 Neer Mahal
Heritage
Famous for: Wonderful architecture and one of the best sites of Agartala

---
The Water Palace (Neer Mahal) is a major tourist place situated about 55km from Agartala. Its speciality is that it is the only lake palace in Eastern India. The sole other lake palace in the co...
Must See
2
Kunjaban Palace
Heritage
Famous for: Being official residence of the Governor of Tripura

---
Constructed by Maharaja Birendra Kishore Manikya in 1917, the Kunjaban Palace is located on a hillock just about 1km from the Ujjayanta Palace. Formerly known as Pushbanta Palace, this has been ...
Things to do in Agartala ( 13 )