Bikaner Tourism
| | | | |
| --- | --- | --- | --- |
| | 0 | | Reviews |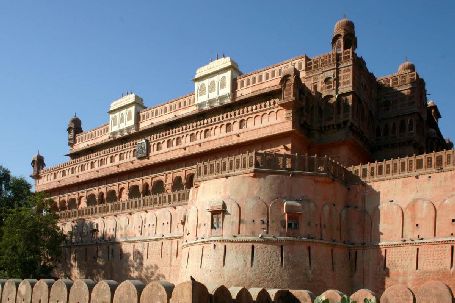 About Bikaner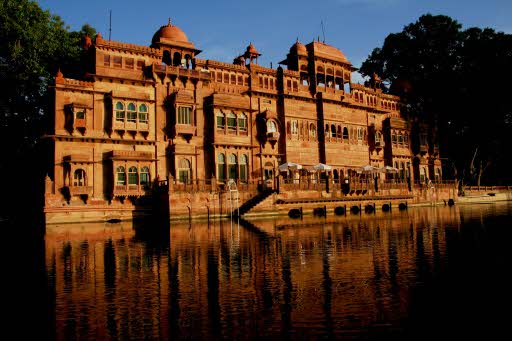 India is the only country of the world that carries lot of colors with it and is fully crammed with different forms of nature like deserts, plains and plateaus. Bikaner, desert area of Rajasthan, is quite rich in culture and camels. Situated in the northern side of the Thar Desert, Bikaner is one of the most fascinated cities of Rajasthan. Sand dunes and sultry sun are the main companions of the camel city – Bikaner! Being a desert region, the city faces very hot and humid climate but it is also very exciting to be there at least for the once in lifetime.
Situated at the distance of 330 kms from Jaipur, Bikaner was founded by Rao Bikaji, the son of Rao Jodhaji. In the year 1488, the city was established by him. According to some legends, it is believed that Rao Bikaji chose barren land for establishing his own kingdom named Jangladesh and later on, he developed the place into a well-developed city name Bikaner.
Popularly known as "Camel City", Bikaner also holds top position in the industrial growth and development. The city has excellent handicraft industries and also provides supreme quality items made up of Ivory and Lacquer.Other than these industrial aspects, the city is also famous for its "Karni Mata" temple where one can see innumerable holy rats. One would also enjoy "Camel Safaris" in the wide spreaded desert of Bikaner city. The city is truly addressed as Camel city because every year one can take participation in the "Camel Festival" held annually.
Among the triangle of desert cities of Rajasthan i.e. Jodhpur, Jaisalmer and Bikaner, Bikaner is culturally developed a lot. One would sure love to witness folk arts and music of the place! As soon as the city is entered, one will find himself in the environment completely red-hued because maximum buildings are constructed in reddish colored sandstone. This feature of the city will also make your visit interesting and cheerful!!
Bikaner Fast Facts
City: Bikaner
District: Bikaner
State: Rajasthan
Country: India
Known As: Camel City
Famous for/as: Fort, Monuments, Museum, Palace, Scenic, Temple
Best Season: Oct to March
Summer: 32 to 45°C
Winter: 5 to 28°C
Rain: July to Nov
Area: 28466 km2
Altitude: 242 m
PIN Code: 3340xx
STD Code: 0151
Bikaner News Papers
Hindi: Seema Sandesh, Dainik Navjyoti, Rajasthan Patrika
Languages: Marwari, Hindi
15 Places to Visit in Bikaner