Tirupati Tourism
Tirumala, Tirupathi or Thirumala
| | | | |
| --- | --- | --- | --- |
| | 0 | | Reviews |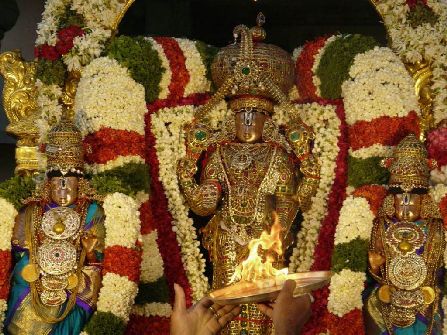 About Tirupati
Tirupati, a cultural and a major pilgrimage city in the district of Chittor in Andhra Pradesh is a must visit place to enjoy your holidays. Known to be the largest city in the region of Rayalaseema, this place is quite popular for its richest temple, the Venkateswara Swamy temple, dedicated to Lord Venkateswara.
Recognized as one of the most famous temple towns in Chittor, Andhra Pradesh, this city is even known by the name of Tirumala, famed for Sri Venkateshwara Temple and many other temples as well. The nearby Tirumala hill is quite an attraction for tourists, which needs to be crossed with seven peaks, known as Sapthagiri. These seven hills actually mark the sign of exemplifying seven hoods of Adisesha, a serpent lying majestically.
For tourists wishing to take blessings from temple can enquire at the temple authority helpline, about the timings for the darshan (visit) of the Lord. Pilgrims and devotees alike stand queuing outside the temple premises from 3 am early morning. The seva time closes at 12 pm in the night. Generally, waiting in the queue can take around 4 to 5 hours to get the darshan of Lord Vishnu.
Tirupati is regarded as one of the most beautiful, ancient and sacred pilgrimage tourist places in India. This is a town other than a transport hub situated at the bottom of the hill, the sacred hill, situated near the temple. This temple is known to be one of the busiest temples in the world, covering even tourist population in Rome, Mecca and Jerusalem, in the number of visitors visiting it.
As per mythology, the Tirumala mountains depict Adisesha, the lord of serpents, on whom, Lord Vishnu rests. The seven hilltops represent the serpent seven heads.
The path up to the Lord Venkateshwara temple is almost 12 km, which has over 3500 steps to cover in total as one crosses the seven hills.
Tirupati Fast Facts
City: Tirupati
District: Chittoor
State: Andhra Pradesh
Country: India
Famous for/as: Temple
Best Season: Sep - Mar
Summer: 23 - 43°C
Winter: 15 - 35°C
Rain: Jul - Sep
Area: 26.8 km2
Altitude: 161 m (528 ft)
PIN Code: 517xxx
STD Code: 0877
Tirupati News Papers
English: Deccan Chronicle
Telugu: Eenadu, Andhra Jyothy, Sakshi, Namaste Telangana
Languages: Telugu, Hindi, English
10 Places to Visit in Tirupati