Culture of Tirupati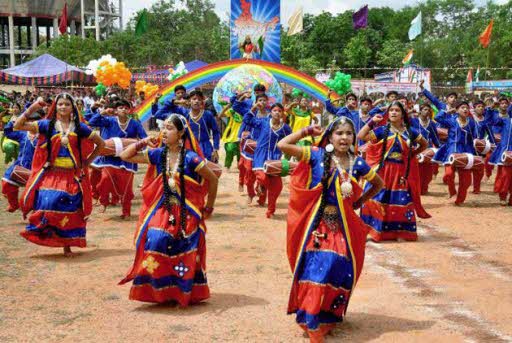 People
People, both local and tourists can visit the Gangamma Jatra, specially held for a week from 8th May to 15th May, each year. This auspicious week is worth experiencing for its unusual rituals. Other than this festival, the other most famous festival is the Brahmotsavam, held at the Chandragiri Fort along with the Rayalseema Food and Dance Fest, another common attraction for tourists.
Language and religion
Tirupati, a place where one can see two ancient languages, Tamil and Telugu, is an amazing place to visit having linguistic harmony in the country. Though the principal and official language spoken by the people is Telugu, Tamil is understood by few. The education system here is totally that of English language, mostly between the educated classes.
The temples here are built of Dravidian architecture. The major religion being Hinduism, people prefer to wear Dhoti and Saree as traditional attires. Churidar and pant shirts have also become common recently. Devotees are seen applying tonsure and tilaka as a mark of blessing from Lord Venkateswara. Tourists can hear prayers and songs of this God everywhere in this town. One can see the statue of Bharatharatna award achiever, M.S. Subhalakshmi, a legendary Carnatic singer near the bus stand.
Food
The food typically consists of simple South Indian vegetarian fare of rice, sambhar, vegetables and rasam. The temple food is especially prepared by the male priest and helpers and in large quantities. Here, one can eat the temple food served on banana leaves, with sweet rice being the specialty, similar to dessert. Other sweet food provided is the laddu, a favorite cuisine of the Lord too.
Local festivals, Art and music
Other than the temples, Tirupati is worth seeing for its festivals and fairs. The Brahmotsavam festival held in October is worth experiencing as it is performed for entire nine days and is known as one of the most significant and auspicious events held here. Legend is that this festival was initially started by the creator God, Brahma, who started this festival to Sri Balaji at Tirupati to mark as a thanksgiving for the Lord's protection of mankind.
Things to do in Tirupati ( 8 )