Mountaineering in Alwar, Rajasthan
Must See
1
Bala Quila
Land, Heritage, Nature
Famous for: Majestic fort, historical landmark

---
Also known as the Alwar Fort, the Bala Quila is one of the most prominent landmarks of this historical site. Standing on a 300 m steep peak, this majestic fort showcases the grandeur of this vib...
Upcoming
2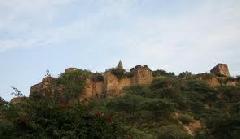 Moti Doongri
Land, Heritage, Nature, Pilgrim
Famous for: Beautiful temple and palace

---
Moti Doongri is also a favorite hot spot for the tourists which is renowned for its magnificent palace and temple of Lord Ganesha and Lakshmi Narayan. The palace is places on a hill top surround...
Things to do in Alwar ( 19 )