Garden in Alwar, Rajasthan
Popular
1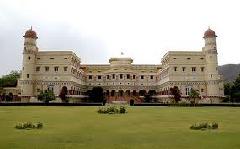 Vijay Mandir Palace
Heritage, Nature, Pilgrim, Water
Famous for: Elegant palace, garden, lake

---
Showcasing an overwhelming example of the royal elegance and luxury, Vijay Mandir Palace is beautiful palace that was built by MaharajaJai Singh in 918 AD. This lovely palatial mansion is dotted...
Popular
2
Fateh Jung Tomb
Heritage, Nature, Pilgrim
Famous for: Beautiful tomb with exquisite architecture

---
Dedicated to Fateh Jung, a minister in the court of Emperor Shah Jahan, this tomb is a frequently visited attraction in Alwar. The tomb is a greatspecimen of Mughal and Indo- Islamic architectur...
Things to do in Alwar ( 19 )