Culture of Alwar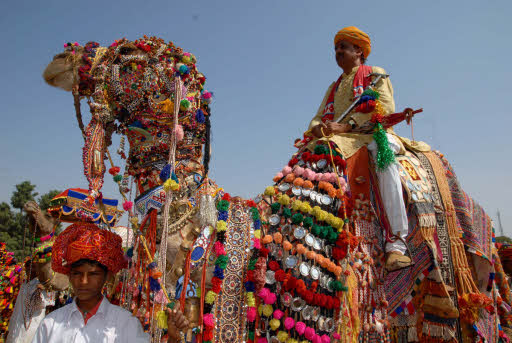 People
The people and lifestyle of Alwar showcases the unique cultural richness of Rajasthan. The people are very rigid and enthusiastic by nature. They celebrate a variety of festivals in association with traditional dance and vibrant music.
Religion and Language
Hinduism is the main religion practiced by the major population in Alwar. However, other religions such as Islam, Sikhism, Jainism and Christianity are also followed. Rajasthani is the most commonly used language spoken by the locals with flair of Hindi. Thus, Hindi, Rajasthani and English are the main languages of the town.
Fairs and Festivals
Alwar Festival is the most popular festival of the town which is celebrated in February. It is a 3 day festival which is accompanied by colorful processions, elephant sports, contests and flower exhibitions. Matsya Festival is also an important festival of Alwar which is known for its cultural and social heritage. Besides, Diwali, Holi, Dusshera, Teej etc are also celebrated here with great joy and enthusiasm.
Food
The cuisine of Alwar is comprised of authentic Rajasthani delicacies. However, the most famous sweet here is milk cake or kalakand which is prepared from milk and is popular all across the world.
Things to do in Alwar ( 19 )