Mosque in Delhi
Popular
1
Jama Masjid
Heritage, Pilgrim
Famous for: Religious belief and architectural grandeur

---
Just at a distance of 500 km from Red Fort is the Jama Masjid, and is one of the biggest Masjids in India. Jama Masjid is also known as Masjid-i Jahān-Numā. Its construction began by Shah Jaha...
Upcoming
2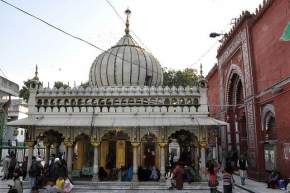 Nizamuddin Dargah
Heritage, Pilgrim
Famous for: Being Dargah of famous sufi saint named Nizamuddin Auliya

---
Situated in the Nizamuddin West area of Delhi Nizamuddin Dargah is the Dargah of one of the world's most famous Sufi saints, Nizamuddin Auliya. The Dargah is visited by thousands of Muslims ...
Things to do in Delhi ( 7 )