Culture of Delhi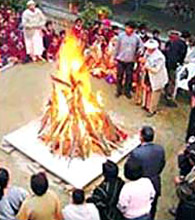 People
People of every religion and culture can be found in Delhi. Amalgamation of modern lifestyles as well as the old traditions and values is found here. People here are very helpful and cheerful and are counted amongst the most hospitable ones.
Language and Religion
The major language spoken in Delhi is Hindi. Other than Hindi, Punjabi is also spoken by a large number of people. It is a multi-linguistic and multi-cultural city. A large number of religions exist peacefully in Delhi. The presence of all religion can be felt in the different festivities and celebrations in the city.
Fairs and Festivals
All types of festivals are celebrated in this capital city. Navaratri and Deepawali are celebrated widely and in a large scale. Besides this, other festivals like Lohri, Baishakhi, Id, and other festivals are also celebrated here.
Food
Delhi is famous for a wide variety of cuisines. All sorts of cuisine can be found here in Delhi. Same like its culture and people wide variety of foods is also found here from continental, to Italian, Chinese, North Indian, South Indian and all other.
Things to do in Delhi ( 7 )