Culture of Dadra And Nagar Haveli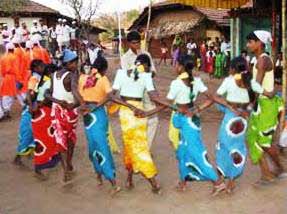 People
Main section of the population of Dadra and Nagar Haveli consists of tribal people. The people of Dadra and Nagar Haveli are quite cordial and friendly with their guests from different parts of the country. The people of Dadra and Nagar Haveli consist of tribes such as Koli, Naika, Dhodia, Kokna and much more.
Language and religions
People of Dadra and Nagar Haveli mostly commonly speak the Marathi, Gujarati and Bhili. Bhili is one of the most frequently used local languages by the local people. One could see very rare use of Hindi language also.
Though all the religions are equally treated in the region but then also Hindus people carries majority. People following Christianity and Islam could also be witnessed in Dadra and Nagar Haveli.
Food
Most common food taken by the local tribes of Dadra and Nagar Haveli comprises of great variety of vegetables and pulses. Other most common composition of tribal meals of Dadra and Nagar Haveli are River fish, crabs, rotis, Chutneys, Ubadiyu, etc. Gujarati touch is also visible in food in the region.
Local festivals, art and music
Among the local festivals, people of union territory celebrates almost all major festivals of India like Navratri, Pateti, Ganesh Chaturthi, Id, Diwali, Akhateej, Monsoon Magic festival, Tarpa festival,etc. if we talk of art of Dadra and Nagar Haveli, then the most famous ones are leather slippers, baskets of bamboos and weaving mats. Music of the place is quite melodious and the music instruments are usually made by the local people making use of gourd, bamboo, clay, etc.
Things to do in Dadra And Nagar Haveli ( 18 )