Culture of Agra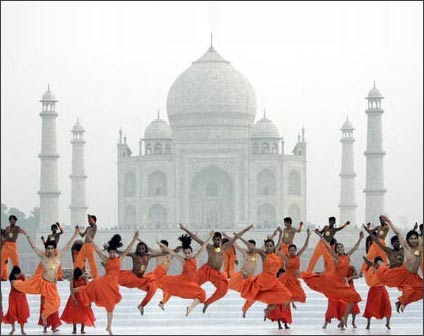 People
People of Agra are warm, calm, and very cooperative. This majestic city is a home of diversified people from different beliefs. The residents of Agra have adopted a contemporary style of dressing and lifestyle. The men wear trousers and shirts and women wear traditional wears.
Language & Religion
Agra is enriched with different cultural and traditional values. The most prominent religions practiced in Agra are Hinduism, Islam, Christianity, Sikhism, and Buddhism. And some of the castes in Agra are the Jatavs, Baniyas and Jats. The most widely spoken languages in Agra are Hindi and Urdu, and Punjabi is also spoken.
Local Festivals & Art and music
A variety of colourful festivals are celebrated in this cultural city. Taj Mahotsav held in Shilpgram is a ten-day long festival that hosts an exhibition of crafts, arts, classical song and dance performances. The Islamic festival Id is also celebrated with great enthusiasm in the city.
Food
Once being a home of the Mughals, the city is widely famous for the Mughal cuisines like Kebabs, Kormas and curries that involve curd, cream, nuts, almond and selected spices. The most popular food item of Agra, apart from the famous Mughlai dishes, is the Pethas made from pumpkin and glucose and is popular all over India. Dal moth is a kind of snack and also one of the specialties of the city.
Things to do in Agra ( 7 )