Agra Tourism
| | |
| --- | --- |
| | 3 |
| Gorgeous | Reviews |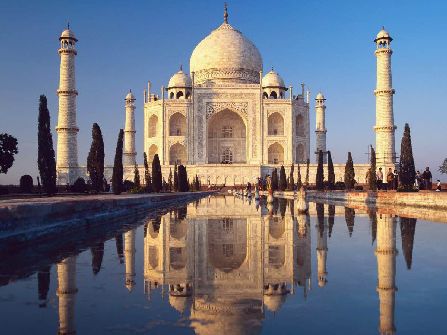 About Agra
On the banks of river Yamuna is situated the one time capital of India, formerly known as Hindustan Agra. Situated in the Indian state of Uttar Pradesh, Agra is one of the populous cities which stand as the 19th most populous city in India. Agra is also claimed to be the 20th most populated city in India, as the city's sewage flows into the River Yamuna, making the city and the atmosphere polluted.
Agra being the kingdom of several great rulers was once the capital of the Mughal Empire from 1526 to 1658. Today, Agra has emerged as one of the major tourist destinations in India attracting millions of tourists from other major cities and abroad. Agra is a home to several beautiful monuments; some of them are also included among UNESCO heritage sites. Few of its most notable monuments are the Taj Mahal, Agra Fort, Fatehpur Sikri, Akbar's Tomb in Sikandra, Itmad-Ud-Daulah's Tomb, Mariam's Tomb, Jama Masjid, Chini Ka Rauza etc.
Besides, being a home of several heritage monuments and forts, this historic city also has a rich culture and tradition. One can have a fabulous time in Agra, enjoying the great Mughal architecture and art. There are lots of more stuff to do here. The place also serves as a prime center of richness in India.
In India, Agra is the centre of big handicraft industry where you can find a variety of handicrafts, carpets and several leather items. Agra is also a well known supplier of leather goods in India and the world. It has been three centuries when the city was built but still it looks to be fresh and beautiful. The city unfolds the history of the Mughal India period and its magnificent history binds the travellers. The great view of the city attracts visitors and forces them to stay here for a long time exploring the history of its past.
Agra Fast Facts
City: Agra
District: Agra
State: Uttar Pradesh
Country: India
Known As: Agrevana
Famous for/as: Monuments
Best Season: Oct - March
Summer: 25 to 46°C
Winter: 1 to 23°C
Rain: July to Sept
Area: 188.40 km2
Altitude: 171 m
PIN Code: 282xxx
STD Code: 0562
Agra News Papers
English: Agra News, DLA
Hindi: Jan Morcha, Dainik Jagaran
Languages: Hindi
15 Places to Visit in Agra