Travel Within Kolkata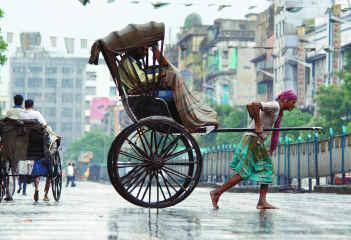 Tram:
The Tram is the means of transportation through which you can travel to almost all places of Kolkata and this vehicle is very eco-friendly. In India you can able to find tram only in this city. Tram tracks will be in middle of the road and since it travels slowly there is no way for accidents to occur and you can enjoy the natural beauty of Kolkata.
Taxi:
In Kolkata you can able to see taxi in all places and you can book the cab service in prior too. However, before getting in the cab, bargain the taxi charge in prior as no fixed rate has been fixed for taxi travel. To come from and to go to the railway station, airways taxi will be very helpful.
Metro:
Metro is the underground train service that helps you to move to any part of the Kolkata. You can find trains for every eight minutes. In India, metro service has been first established in Kolkata. The train service will be started from 7 am and ends at 10 pm. It is to be noted that on Sunday, this service will be started only at noon 2pm.
Rickshaw:
To travel within the city at the inexpensive rate you can make use of the Rickshaws that are available in the three different models. By traveling through this medium you can relax yourself by viewing the beauty of the city.
Bus:
Travelling through bus will be a right choice if you wish to go to long distance place within a city. You can make use of the government and private buses according to your choice. Private buses will provide video coach, AC, push back seats, and so on. However, bus charge will be different for private and government buses.
Local Train:
You can make use of the local train service to travel inside the city. The cost will be cheaper when comparing to the metro, bus service. But, you have to wait for a certain time to get the train to go to the respective place.
Ferry:
In order to cross the river you can utilize the Ferry service as the charge will be inexpensive and you can reach your destination within few minutes. If you use this service you can save your time and money and you can have more fun while traveling through ferry.
15 Places to Visit in Kolkata