Culture of Shimla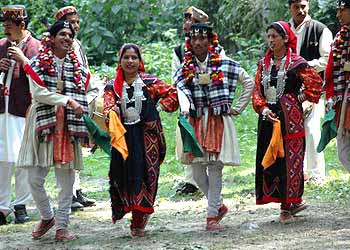 People
Shimla is the most visited hill stations in north India. The life pattern of people here in Shimla is very simple. The locals here are known as the Pahari Peoples. However in modern times, the people living in Shimla are known as Shimlaites. The Shimlaites make their living through agriculture and livestock, these two are the main occupations of the people out here. The women here wear Salwar, Kameez, Kurta or the long knee length gown known as Juan Chadiyan which reflects their culture.
Language and religion
Most of the people in Shimla speak Pahari although several of them use Hindi, as it's the official language of the state. There are many temples and churches in Shimla. The people of Shimla celebrate festivals all around the year. During the summers, they celebrate Summer Shimla Festival which lasts till 3-4 days. Some main festivals are winter festival, Shivratri, the Ice Skating Carnival and International Folk Festival.
Art and music
In Shimla tribal music is very famous and some of the famous instruments used by the local people are Ektara, Jhanjh, Manjara and Chimta. The famous dance forms are Rakshasa Dance or the Dance of the Demon, the Kayang Dance and the Rasa Dance. Here in Shimla, you will find the hand woven work done by the people of Shimla. The two styles of embroideries are Thapada and Kohana.
Food in Shimla
In Shimla, most food dishes are the typical North India cuisines which can be modified a little to meet the cold weather conditions of the place. The main staple foods of the locals are the rice, bread, lentils and vegetables. Spices are used significantly such as cardamom, cinnamon, cloves, pepper and red chilies. You can find a combination of both vegetarian and non-vegetarian dishes in Shimla. Popular vegetarian dishes to taste here are guchhi matter, kaddu ka khatta and sepu vadi. Non-vegetarian food lovers can enjoy chicken anaardana, grilled fish and kullu trout.
Things to do in Shimla ( 14 )