Pushkar Tourism
| | | | |
| --- | --- | --- | --- |
| | 0 | | Reviews |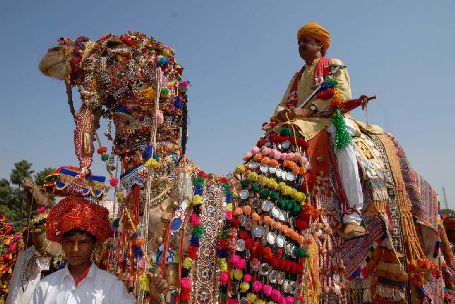 About Pushkar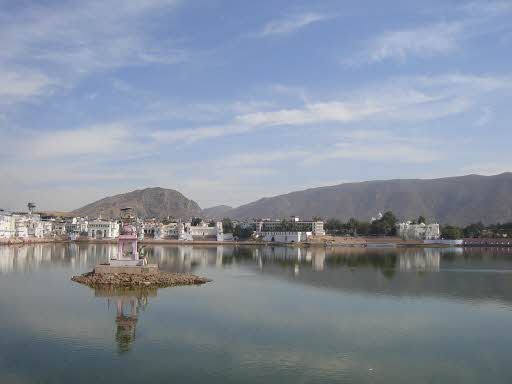 Pushkar, according to a famous legend, is well-said as "TeerthoKa Raja or Tirth- Raj" as it is believed that your visit to all the four Hindu teerths are incomplete without taking bath in the holy water of Pushkar Lake. Therefore, the city holds great significance in Hindus life. One can see lots of foreign tourists throughout the year just because of its holiness and pious environment.
Nestled only at the distance of 11 kms from Ajmer, Pushkar is the most sacred town of Rajasthan state of India.The city is renowned for its magnificent temples and historical palaces. Among the temples, the Brahma temple is quite famous worldwide and its so because, it is the only one temple of Lord Brahma, creator of Universe, all over the world. According to some famous legends, it is believed that the city Pushkar came into being because of falling of flower. Gods sent a swan towards the earth to find a place where a Yagya could be performed by Lord Brahma and it was Pushkar where the flower got released from the beak of swan.
Other than five main temples, 52 ghats, and myriad of small temples, Pushkar is also famous for Camel Safari and Camel Fair held every year. During this fair, one can see innumerable people hoarding here to take active participation in this grand event. Pushkar Lake is also one of the most sacred sites in Pushkar.
Pushkar, the holy town of Rajasthan, can be easily reached through all the three means of transport – air, road and rail. Pushkar also enriches in the culture and has great traditions. People are quite polite and generally make use of Hindi and Rajasthani.
Pushkar also has lot to offer for day excursions like Kishangarh, Merta, Bhandarej and many more outstanding places. So, a visit to Pushkar will fill your life with great memories and most cherished moments of life!!
Pushkar Fast Facts
City: Pushkar
District: Ajmer
State: Rajasthan
Country: India
Famous for/as: Camel Safari, Fort, Lakes, Monuments, Palace, Picnic, Scenic, Temple
Best Season: Oct to March
Summer: 25 to 45°C
Winter: 8 to 22°C
Rain: Aug to Sept
Area: 5 km2
Altitude: 510 m
PIN Code: 305022
STD Code: 014581
Pushkar News Papers
Hindi: Rajasthan Patrika, Dainik Bhaskar, Nafa Nuksan
Languages: Hindi, Rajasthani, English
15 Places to Visit in Pushkar