Culture of Pune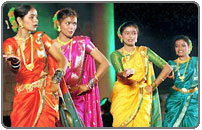 People
Pune represent an amalgamation of different cultures and a mixture of different civilizations. The traditional Maharashtrian lifestyle is prevalent in the city. People from multiple religions are found here.
Language & religion
People in Pune speak different regional languages. The official language of Pune is Marathi and most of the people speak in Marathi only. Besides Marathi, people also speak Hindi, English and the local language.
Numbers of religions are followed in Pune. The major religion followed in Pune is Hinduism, whereas other religions like Sikhs, Christians, and Muslims are also here.
Fairs and Festivals
The popular festival of Pune is Chaturshringi Fair which is held during the Navratri festival. Sawai Gandharva Music Festival is also one of the popular music festivals during this time. Only singers from the celebrated Kirana gharana use to perform in this festival. Another popular festival of Pune is the Osho Festival.
Food
The cuisine of Pune is quiet spicy and a large amount of green chillies are used in preparing cuisines here. The traditional food items of Pune are Puran Poli, Amti, Pithla Bhakri, Varan Bhat, Matki Ki Usal, Thali pith, Alu chi Vadi. The local food of Pune gives a typical flavour of coconut and garlic.
Things to do in Pune ( 15 )