Jaisalmer Tourism
| | | | |
| --- | --- | --- | --- |
| | 0 | | Reviews |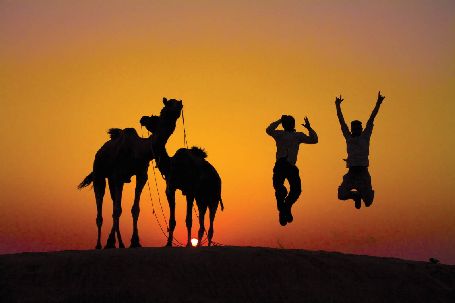 About Jaisalmer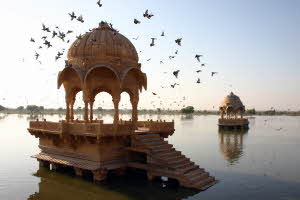 Jaisalmer is an icon city of Rajasthan with enchanting beauty, utmost in historical significance and top of the all, blessed with ample of natural splendor. Therefore, being glorious city of Rajasthan, it is also well-known as the"Golden city" and is great tourist alluring place of Rajasthan. This desert city is situated 575 kms away from Jaipur, the capital city of Rajasthan and spreaded over an area of about 1429 sq.km enclosed with Pakistan in the west, Bikaner in the north, Barmer and Jodhpur in the south and Jodhpur in the east. Jaisalmer is Rajasthan's largest district and is very developed city in a rectangular shape.
Rajasthan of India feels very pride to have Jaisalmer in their boundary as it is one of the precious gems in the tourist industry. Though climatic condition of Jaisalmer is not that much favorable as other tourist city but then also, many of people enjoy here and takes away with them something different type of memories of desert area. To reach the city is very easy and simple task as there are the best connectivity available through air, road and rail.
Literally, Jaisalmer means the hill fort of Jaisal. RawalJaisal, the BhattiRajputs' successor, founded this historical and majestic city. Jaisalmer is famous for its golden colored desert. The main attractions of this splendid place of Rajasthan are magnificent forts, majestic palaces, fabulous temples, entertaining parks, pre-historic museums and gorgeous havelis. Jain temples of this city are also famous worldwide for their mind-boggling architectural style.
Other than tourist spots, tourists also get attracted towards Jaisalmer because of it vibrant festivals, camel shows and also thrilling rides. Warm welcome and hospitability of people of Jaisalmer makes your trip unforgettable throughout your life. Therefore, those who want to enjoy the natural beauty of hub of TharDesert along with the helping nature of local people, then they are right place!!
Jaisalmer Fast Facts
City: Jaisalmer
District: Jaisalmer
State: Rajasthan
Country: India
Known As: Golden City
Famous for/as: Amusement Park, Handicrafts
Best Season: Oct - March
Summer: 25 to 42°C
Winter: 7 to 24°C
Rain: Sept - Oct
Area: 5.1 km2
Altitude: 225 m (738 ft)
PIN Code: 345 00x
STD Code: 02992
Jaisalmer News Papers
Hindi: Seema Sandesh, Dainik Navjyoti, Rajasthan Patrika
Languages: Hindi
15 Places to Visit in Jaisalmer