Culture of Ranikhet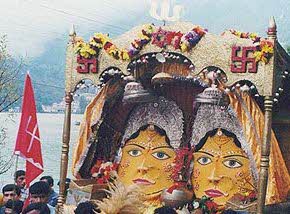 People
The people of Ranikhet are very friendly, humble and welcoming for the tourists. They are very helpful and simple hearted. They are often called as Kumaonis or Paharis. The population of Ranikhet includes many ethnic groups that form the culture of the region.
Religion and Language
The majority of the people in Ranikhet are Hindus and hence Hinduism is the major religion followed in the hill town. Besides, other religious such as Islam, Sikhism, Buddhism, Jainism and Christianity are also among the prominent ones. Hindi, Kumaoni and English are the main languages spoken in Ranikhet.
Fairs and Festivals
Nanda Devi fair held at the Nanda Devi Temple is the important fair to be held in Ranikhet. It is celebrated with great pomp and show in the month of September. Moreover, the other famous fairs and festivals are Shayaldeh Mela, Dwarahat Fair and Navratri festival.
Food
The mouth-watering and delicious cuisine of Ranikhet in Uttaranchal reflects the culture of the town. The local cuisine of the region comprises of various vegetarian and non vegetarian dishes that will pamper your taste buds too. Rice is the staple food and the most famous dish here is bhat, a variety of soyabean. Other popular delicacies include ras, bhang ki chutney, shai, badil, singal, gulgula and kulath phanu.
Things to do in Ranikhet ( 16 )