Culture of Ranchi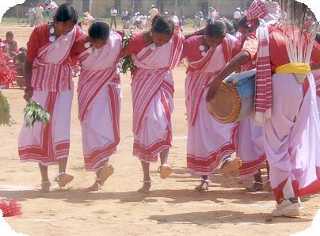 People
Jharkhand is the home of several groups of tribal communities. The people of Ranchi are friendly and humble natured. Agriculture is the main occupation of most of the people of Ranchi. Mining on coal, limestone, asbestos and ornamental stones are some other occupation of the people of Ranchi.
Languages and Religions
Hindi is the most spoken language in this district. English, Oraon, Mundari, Nagpuri, Kurmal and Bengali are the other languages that are spoken by the people of Ranchi. The style of speaking of the people of Ranchi is very to the ears.
The religions that are followed here are Jainism, Hinduism, Buddhism, Christianity and Islam. The tribal people have their own religious practices called as Sarna. Because of the Christian influence there are also tribal converts.
Food
Rice is the most staple food of Ranchi. The Restaurants of Ranchi serve almost all types of food. They serve many type of cuisine styles like Mexican, continental, North Indian and they even serve International type cuisines in some hotels. Kaju Barfi, Malai kachori, Boondi Ladoo, Gond ke Ladoo, Pakeeza Roll and Moti Pak are some of the special types of sweets are available in large numbers.
Art and Music of Ranchi
The tribal are well proficient in art and culture. Ranchi is well known for its folk music and dances. There are many artists who have their roots grounded in Ranchi. Ranchi has famous artists like Jado Patiya, Santhali Bhittichitra and Oraon Bhittichitra. Therefore Ranchi is rich in attractive picturesque locations, art and culture of the district. Some of the festivals that ate celebrated in Ranchi are Saraswati Puja, Durga Puja, Vishwakarma Puja, Diwali, Holi, Id - UI-Fitre, Muharram, Id - UI – Zoha, Sarhul, World Indigenous Day, Kara, Easter, Christmas and Mahavir Jayanti. Apart from these Jharkhand Formation Day is a unique day that is celebrated in Ranchi.
Things to do in Ranchi ( 10 )