Palace in Hyderabad, Andhra Pradesh
Popular
1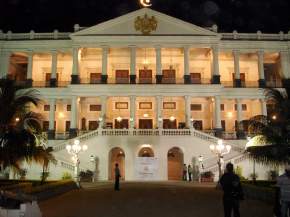 Falaknuma Palace
Heritage
Famous for: Beautiful Palace - seven star hotel

---
In Urdu, the Falak-numa literally means Like the Sky or Mirror of the Sky. One of the finest palaces of Hyderabad is located on a 32 acre, 19400 square meters area in Falaknuma. Built by Nawab V...
Popular
2

Chowmahalla Palace
Heritage
Famous for: Official residence of the Nizams

---
Chowmahalla Palace means four palaces and is also known as Chowmahallat. Chahar in Persian means four and Mahal in Arabic mean places. The Palace belonging to the Nizams of Hyderabad state was t...
Things to do in Hyderabad ( 18 )