Culture of Hyderabad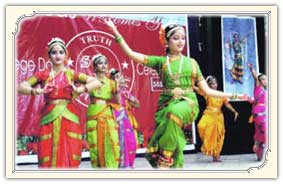 People
The culture of Hyderabad is quite unique, a blend of modern and traditional cultures can be seen here. The people of Hyderabad are called as Hyderabadis. The reflection of Muslim culture can also be seen in the culture of this Nizam city. Women in Hyderabad are seen wearing traditional Indian dresses like Sari or Shalwar Qamis. And the Muslim women wear either the burqa or the hijab.
Language and religions
Many different cultures and traditions are seen in Hyderabad. This beautiful Pearl City is a house of different religions, such as Christianity, Hinduism, Islam, Jainism, and Zoroastrianism. The city culture is a mixture of old Islamic Culture and the Hindu traditions of the Telugu people. The principal language of Hyderabad is Telugu and Urdu. Telugu is widely spoken in the Hyderabad region.
Food
A blend of heavy Mughal, traditional Andhra and Telangana cuisines is found in Hyderabad. The famous food of this beautiful city is Hyderabadi Biryani. Other famous foods of Hyderabad are Khubani ka Mitha, Pheni and Haleem, Pathar-ka-Ghosht and Nahari. Famous Sweets are Double-ka-Meetha, Khubani-ka-Meetha, Seviyon-ka-Meetha and Kheer. The delicious food of this city represents its culture and tradition. You must taste the delicious and yummy Hyderabadi cuisine when you visit the place.
Local Festivals & Art and music
Hyderabad is a famous city for its performing arts and its rich legacy in dance and music. Hyderabad is an important seat of Carnatic music. Several important gurus of the Carnatic music are from the city of Hyderabad. Apart from the classical music, the city populace also enjoys popular numbers from Hindi, Telegu and Tamil movies. Varied classical dance forms such as Kuchipudi, and Perini are also performed by the accomplished dancers in the city.
The important festivals celebrated in Hyderabbad are International Kite Festival, Kakatiya Festival, Deccan Festival or Hyderabad Festival at Qutb shahi Tombs, Lumbini Festival at the time of Buddah Poornima and Rayalseema Food and Dance Festival organized in September-October every year.
Things to do in Hyderabad ( 18 )