Culture of Leh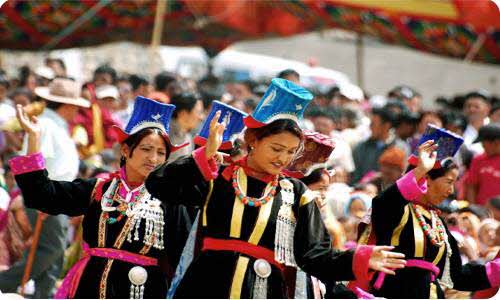 People
People of Leh have a unique facial feature and they are from the Indo-Aryan ethnicity and are originally Dards. The people who migrated from Tibet introduced their own religion and culture in Leh. They are generally known as Ladhakis.
Language and religion
The culture of Leh is mixtures of Arghons and the Muslim communities and also the Tibetan culture. The language spoken here is called Bhoti generally called the Western Archaic Tibetan which includes languages like Balti, Burig, Purig, Purki.
The main religion practiced in this region is the Tibetan form of Buddhism. At the same time, the influence of Muslim religion can also be noticed here.
Local Festivals & Art and music
There are many festivals that the people of Leh celebrate all around the year. Some of its major festivals are Dosmoche, the festival of the scapegoat; Losar; Sindhu Darshan Festival; Ladakh Harvest Festival and Tak -Tok Festival.
Food
Tsampa: is one of the traditional Ladhaki food consumed generally at breakfast.
Pava: well-liked among the citizens of Ladakh and is prepared with tsampa and ground pea flour.
Khambir: similar to the naan bread and is prepared with wheat flour.
Skyu: a favourite cuisine of the local people and is prepared with wheat flour dumplings with vegetables.
Cholak: A nutritious cuisine that is easily available and is made by tsampa and Ladakhi tea.
Things to do in Leh ( 10 )