History of Kochi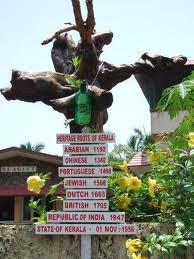 Kochi's history is quite vibrant and full of colors. In former days, it was referred as Cochin and was the main trading point of that era. At that time only, lots of tradesman came to this city for trading and business purpose and among them, the main were Chinese, Arabs, Dutch, British and Portuguese. Most of them slowly starts residing to this city only and brought many alterations to the existing monuments.
History of Cochin went through manifolds and the chief among the entire history are as follows:
Before the Portuguese era
Kochi, before the Portuguese rule, was not so vibrant and progressive. As per few legends, it was only came to know that even Chinese traveler Ma Huan also not play any significant role in the glorious past of Kochi.
The Portuguese period
The period of Portuguese in Kochi was supposed to be the turning point for this city as Portuguese were the first to construct a factory in this city. During the reign of Portuguese only, the first European fort in Kochi was constructed named Fort Manuel for the safety point of view.
Dutch Period
The ruling period of Dutch began from 1663 and continues till 1795. Also, the trading of pepper, cardamom, coir, copper and coconut got a boost during the Dutch period.
The period of British
During the British rule, the city Kochi took the shape of completely developed city and after 1947, in 1967, Kochi emerges as a Corporation with the mingling of Mattanchery, Ernakulum, Fort Kochi and other villages in proximity. Not only this much, Kochi emerges into great tourist destination of Kerala state of India.
15 Places to Visit in Kochi