Culture of Kangra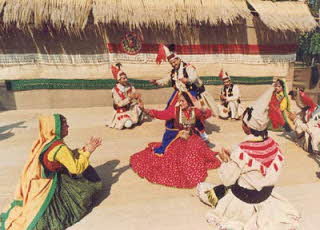 The secluded hill destination of Kangra valley is a treasure trove of captivating scenic beauty and rich cultural heritage. A trip to this paradisiacal land takes you into a world of mesmerizing beauty with diverse rich Indian culture.
Religion and Language
The people of Kangra mainly follow Hindu religion but other religions such as Muslim, Buddhist, Sikh, Christian and Jain are also followed. The majority of Hindu people are Rajputs and Brahmins. The main languages to be spoken here are Hindi and Himachali.
Fairs and Festivals
In Kangra, a lot of fairs and festivals are celebrated by the people with great zeal and zest. The major folk dance of Kangra is known as Jhamakada which is beautifully performed by women in groups. This regional dance includes a number of instruments and folk songs to be sung during different festivals. In the month of April and October, a number of pilgrims rush to Kangra to celebrate the Navratra festival at the famous Kangra Devi Temple and to pay homage to Goddess Durga.
People
Kangra people are very warm and friendly and you can easily strike up a friendship relation with the local villagers. While your tour to Kangra, an easy interaction with them will help you a lot to explore their culture and lifestyle as it is.
Food
The everyday food in Kangra comprises of rice, dal, vegetable and roti as like traditional North Indian meal. The food specialty of Kangra region is Sidu, a wheat flour bread kneaded with yeast. Other famous Kangra recipes include Channa Madra (chickpeas with yogurt gravy) and Khatta.
Things to do in Kangra ( 22 )