Jyotirlinga in Somnath, Gujarat
Must See
1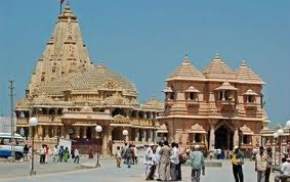 Somnath Jyotirlinga Temple
Entertainment, Pilgrim, Water
Famous for: One of the 12 jyotirlings in India

---
The legendry sea-side temple of Somnath is the most popular religious site in the town of Somnath. Renowned as one of the 12 jyotirlings in India, the temple is highly revered by the devotees an...
Upcoming
2
Kamanth Mahadev Temple
Entertainment, Nature, Pilgrim, Water
Famous for: Shiva temple dated back to 200 years

---
Built about 200 years ago by a Mayurdhwaj king, Kamanth Mahadev Templeis a popular temple in Somnath. The myths said that a monk who was a true devotee of Lord Shiva, requested him to originate ...
Things to do in Somnath ( 9 )