Culture of Jodhpur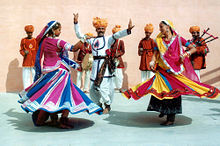 People
People of Jodhpur are popular for their humble nature and hospitability. The people of Jodhpur have totally Marwari language on their tongue. People of Jodhpur always remain in their traditional outfit and the multihued dresses wear by them are really fascinating. Women wear gathered "Ghagras" and a hip length Kurtis whereas the main attraction of men costume is turban at their heads.
Language and Religion
Hindi, Marwari and Rajasthani are the main languages spoken by the local people of Jodhpur. Language is the main mode of conversation between the two people and the tone of language spoken by the people of Jodhpur is very impressive.
Hinduism is the main religion followed in Jodhpur. But the people of different religions are also found here and this shows that Jodhpur is great city with all the religions like Jainism, Islam and also Sikhism.
Food
No detailed description is required for cuisine of Jodhpur as this city is famous for its mouth-watering dishes. Here, you can find all types of different cuisine like Chinese, Continental, Indian and Mughlai. Especially, Jodhpur is famous for its Mawa Kachori, Pyaaz Kachori, Makhaniya Lassi, Panchkuta and also hot and spicy Mirchibada. For delicious sweets, you can try sweets of Janta Sweet Home, Pokhar Sweets and Jodhpur Sweet Home.
Local Festivals, Art & Music
The main festivals celebrated in Jodhpur are Marwar Festival, Jodhpur International desert Kite Festival. Jodhpur is also well-known for its excellent art and music basically relevant to Rajasthan.
Things to do in Jodhpur ( 13 )