Culture of Haridwar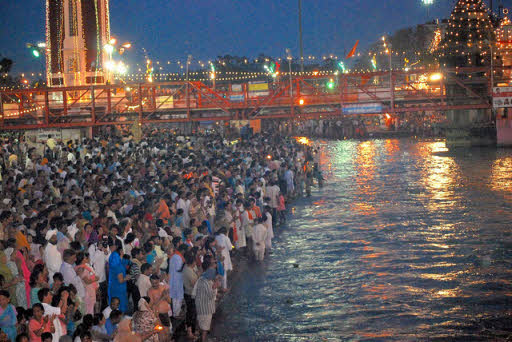 People
People of Haridwar are quite friendly and polite. Other than these qualities, they are religious by their heart. They used to visit the temple daily and performing daily pujas is one of their main habits. Therefore, we can perfectly addressed them as religious as well as well-mannered.
Language and religion
Though one can see many of the local dialects spoken in Haridwar, but the most commonly used languages are Hindi, English and Urdu.
Hinduism is the main religion followed in Haridwar as it is very clear from the fact that Haridwar is one of the main pilgrimages of Hindus. Other followed religions in Haridwar are Muslims, Christianity and few people belonging to Buddhism.
Food
At the priority, people residing in Haridwar are pure vegetarian. So, those who are pure vegetarian would sure love to eat food in Haridwar.
Local festivals, art and music
People of Haridwar take active participation in local fairs and festivals and celebrates the events with great fun and gusto. The main festivals celebrated in Haridwar are Diwali, Holi, Ardh Kumbh Mela and Kumbh Mela. Among these all, Kumbh Mela is the most famous one and lots of people from different nook of the country comes here to get involved in this fair!!
Things to do in Haridwar ( 7 )