Culture of Gangtok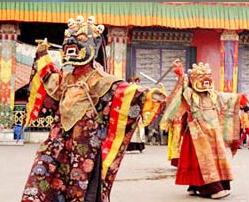 People
Bordered by four sides with China occupied Tibet in the North and North East, Bhutan in the East, Nepal in West and the Indian State West Bengal, different ethnic cultures and communities are found here in Gangtok. People found here are generally known as Nepalese, Bhutia, Tibetan, or Lepcha.
Language and religion
The local people in Gangtok generally speak Nepali. Apart from this, they even speak Hindi, English, and other languages. People of different religions are found here like Hindus, Buddhists, Christians, and Muslims.
Fair and Festival
The major religious festivals of Gnagtok are Diwali, Christmas, Dusshera, Holi etc. Maghe Sankranti, Ram Navami are some of the important Nepali festivals. Chotrul Duchen, Buddha Jayanti, the birthday of the Dalai Lama, Loosong, Bhumchu, Saga Dawa, Lhabab Duechen and Drupka Teshi are some other festivals.
Food
A popular food in Gangtok is momo. A form of noodle called thukpa served in a soup form is also popular here. Other noodle-based foods such as the chowmein, thanthuk, fakthu, gyathuk and wonton are also eaten here. Traditional Sikkimese cuisine includes shah-phaley and Gack-ko soup. Churpee, a kind of hard cheese made from cow's or yak's milk is also popular among the people.
Things to do in Gangtok ( 15 )