Cherrapunji Tourism
Cherrapunjee, Sohra, Wettest Place on Earth
| | | | |
| --- | --- | --- | --- |
| | 0 | | Reviews |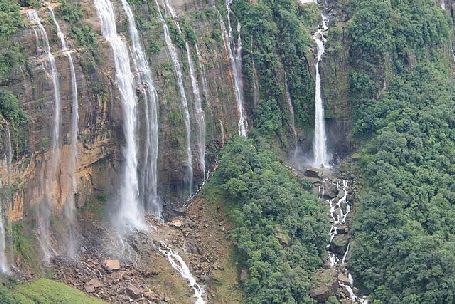 About Cherrapunji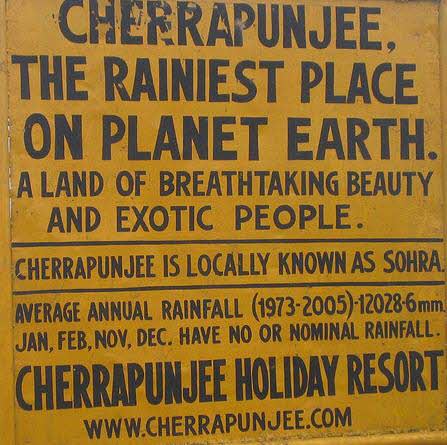 Nestled high above the gorgeous valleys and milky rivers, enveloped in swirling clouds and hooked on lofty hill land, lies the stunning town of Cherrapunji. Credited as the rainiest place on the earth, Cherrapunji is located in the East Khasi hill district in the state of Meghalaya in India. Perched at an elevation of about 4500 feet, this breathtaking small town is dotted with pristine natural beauty and irresistible charm that makes it a beautiful holiday destination for the tourists in Meghalaya- the abode of clouds.
Cherrapunji is an awe- inspiring tourist place to unwind from the madness of hectic city life as the entire atmosphere of the town is covered with soothing calmness and untouched natural beauty. The only season that can be found in Cherrapunji is the monsoon as no month here can pass without rain. However the downpours may vary from light to medium or heavy. The average rainfall recorded in the town is 12,000 mm a year. The astounding holiday destination of Cherrapunji beckons a number of tourists to enjoy its wonderful sightseeing and scenic attractions scattered around the city. The most sought after attraction in the city is the exhilarating waterfalls which also prove to be good picnic spots for the visitors. Mawsmai Falls, Noh Kalikai Falls and Dain Thelen Falls are some of the popular waterfalls in and around Cherrapunji.
Close to the falls lies a wonderful of labyrinth of underground ways down the old caves that serve as fascinating passage for the amateur explorers. Another fascinating sightseeing in the town is the amazing views of Orchids blooming that is just a few feet away and forms a belt lacking of vegetation. The vegetation around the hill side is in the form of dense woods. Dotted with richness of rare orchids, moss, ferns, oranges and pineapples; Cherrapunji is also known for its exotic wealth of flora and fauna.
Cherrapunji Fast Facts
City: Cherrapunji
District: East Khasi Hills
State: Meghalaya
Country: India
Famous for/as: Caves, Waterfall
Best Season: Oct to May
Summer: 10 to 30°C
Winter: 3 to 23°C
Rain: Mar to Oct
Altitude: 1484m (4869ft)
PIN Code: 793108
STD Code: 03637
Languages: Khasi, English, Hindi
8 Places to Visit in Cherrapunji