Culture of Bilaspur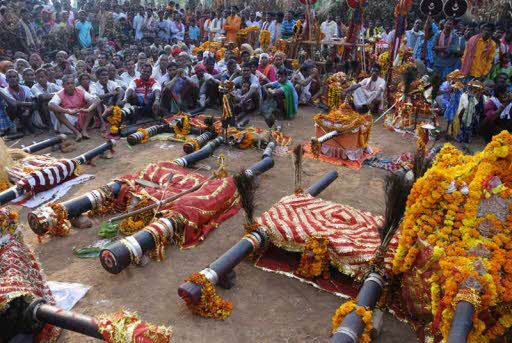 People
The people of Bilaspur are very kind hearted and are known for their simplicity. They are quite adaptable and show good tendency while adopting modern and new lifestyles. They are very fond of colors which can be clearly seen in the dresses they wear. Songs and dances are inseparable parts of their lives and have their own distinct forms of dance and songs.
Religion and Language
People of various tribes and religions can be found in Bilaspur. The gond, korva, halba, madiya and other scheduled tribes mainly inhabit the remote parts of the region though Hindu population dominates the main town of Bilaspur. Some of the tribes also got converted to Christianity after the influence of missionaries in the region. Hindi and Chhattisgarhi is the main language of the region. Besides, Agariya, Bagheli and Bharia languages are also spoken by the tribal people of the town.
Fairs and Festivals
Bilaspur is a cultural land and the people here celebrate numerous fairs and festivals with great joy and enthusiasm. Along with the colourful Rout Dance Festival, some of the other festivals such as Navakhani, Ganga Dushhara, Diwali, Karma and Kartika are also celebrated in a joyful manner.
Food
Bilaspur is famous for its tasty samosas which can be easily available at the local vendors of the town. Besides, doobraj rice and mango is also the speciality of the region.
Things to do in Bilaspur ( 17 )