Art gallery in Mahabalipuram, Tamil Nadu
Must See
1
Arjunas Penance
Heritage, Nature, Pilgrim
Famous for: Architecture, Stone Carving, Scenic Beauty

---
Built around mid 7th century, the Arjuna's Penance is a huge bas-relief erected on two massive boulders. With having a length of 31 m and height of 9 m, this monolithic rock sculptu...
Upcoming
2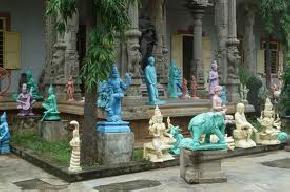 Sculpture Museum
Heritage, Nature
Famous for: Sculptures, Museum, Scenic Beauty

---
The Sculpture Museum is a great place to be visited in Mahabalipuram for the archeology lovers. It houses more than 3000 sculptures of various gods and goddesses. The beautiful sculptures are mo...
Things to do in Mahabalipuram ( 11 )