Culture of Andaman And Nicobar Islands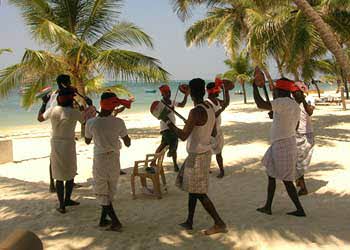 Andaman and Nicobar Islands are the popular traveler's destination in India for the people who are in search of peace and comfort. The beautiful long beaches, exciting landscape, calm coastline, hospitality by the local people and various luxurious accommodations make this place ideal for travelers from all over the world.
People: The native people of Andaman and Nicobar Islands are tribal communities. These tribes are one of the oldest tribal communities in the world. Several tribal communities are residing in different parts of these islands. The northern Andaman is full of refugees from Burma and Nepal. In the British colonization era, a number of people people from mainland settled in these islands.
Language and religion: The civilized people are mostly residing in the Andaman and Nicobar Islands are from the mainland. The place is known for various religions and languages. The official language of Andaman and Nicobar Islands are Hindi, English and Tamil. The tribal people follow their own traditions and customs and speak in their own set of languages.
Local Festivals & Art and music: Many festivals are celebrated in Andaman and Nicobar Islands. The most common festivals are Janamashtami, Island Tourism Festival and Subhash Mela. The tribal people celebrate their own festivals to please their gods. The tribal culture and music are most famous in this island.
Food: Andaman and Nicobar Islands are very famous for its seafood. The vegetables and grocery items are imported from the mainland and these items cost more here. The famous foods available in all hotels are south Indian food and Chinese recipes.
Things to do in Andaman And Nicobar Islands ( 41 )