History of Varanasi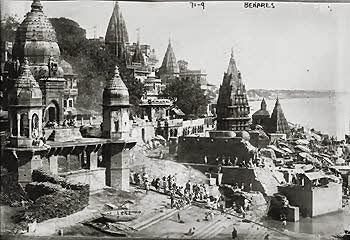 As Varanasi was founded by Lord Shiva 5000 years ago, as mentioned in the chapters of famous Hindu epics – Mahabharata and Ramayana, its glorious history is too ancient and interesting. Being one of the main pilgrimages for Hindus, Varanasi was honored by mentioning about the city in many of the famous Hindus sacred books like Rig-Veda (in which Kashi name is mentioned) , Skanda Purana, etc.
Varanasi is famous worldwide as the city of temples and learnings. Buddha came to Sarnath, only 10 kms away from Varanasi, to preach here and during his time only, Varanasi was declared as the capital city of entire Kashi Kingdom. Therefore, the city is not a religious site for Hindus only, but it also welcomes Jains, Muslims, Buddhist and the people of other religions with an open heart.
After some time, which is during 18th century, the city took the shape of significant religious as well as commercial hub. And, at this era, the city was a separate and self-dependant kingdom. Later on, in 1910, the city was declared as a separate Indian state by the British rule and declared Ramnagar as its headquarter.
Amazing but it is true, Varanasi is the only fortunate city for having great connection with so many legendaries like novelist Prem Chand, poet Tulsi Das, musicians – Ravi Shankar and Ustad Bismillah Khan.
15 Places to Visit in Varanasi