Rock Climbing, Land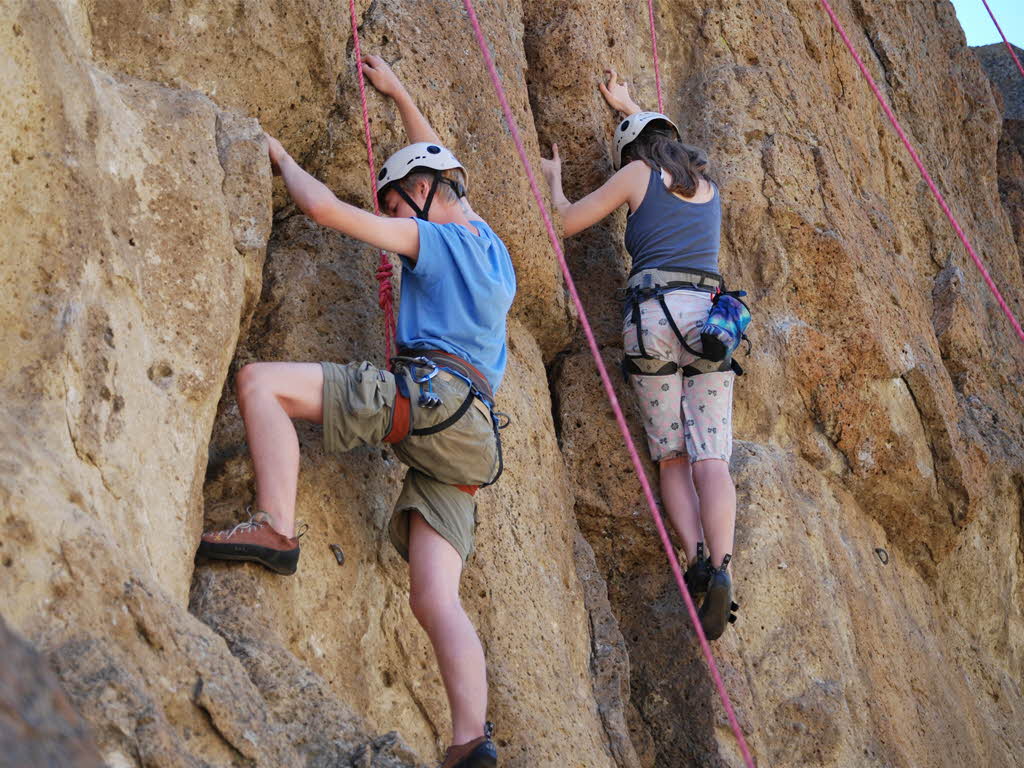 Explore Rock Climbing Destinations ( 63 )
Rock Climbing - Things to do
Have you ever stood at the foot of a large rock that rises thousands of feet from the valley and wondered how it would be at the top? But this journey to the top is a long road that is filled with challenges, falls, risks and techniques. In the world of adventure and adrenalin pumping sporting activities Rock Climbing takes the cake!
Rock Climbing is a sporting activity in which participants climb up, down or across natural rock formations or even artificial rock walls. There are numerous spots in India and abroad where one can do Rock Climbing.
Any sort of climbing especially climbing the ragged and cracked edges of the rock is a physically and mentally demanding sport. In Rock Climbing the climbers' strength, agility, endurance, mental acumen and balance is of utmost importance. If not done properly it can be dangerous sport. Hence knowledge of proper climbing techniques and usage of specialized climbing equipment is crucial for the safe completion of routes in Rock Climbing.
In Rock Climbing it is very important for you to learn to balance your body by managing your body in space. There are different types or styles of Rock Climbing. Some of the major ones have been explained by us so that you could make up your mind on the style that is most suitable for you.
Traditional or Trad climbing is the purest form of Rock Climbing. In traditional climbing the climber does not use permanent anchors while ascending the rock.
Free Climbing is the art of climbing a rock without using your equipment for moving yourself up the rocks. The only equipment used by the climber is the one given to him by god like his arms, hands and other essential body parts. The entire gear used by the climber in this case is only for his protection.
Aid Climbing is a form of climbing in which some external aid is used to climb or pull up the climber's ascent. This form of climbing is done usually when free climbing is impossible or beyond the climber's ability level. Aid is often used on long, big wall routes where mental and physical stamina is required.
Sport Climbing is the quickest way to climb rock while placing permanent anchors. For this type of Rock Climbing the agility, flexibility and strength is more important than the equipment expertise. Compared to traditional styles Sport Climbing is usually done in groups.
Rock Climbing can be done by any adult at any age as long as the individual is healthy and fit. In any form of Rock Climbing the anchor is of key significance.
In India there are a number of places where Rock Climbing can be done. But the best spot for professionals and amateurs is the Himalayan ranges in the north. There are a couple of places in South India and the Western Ghats where there are beautiful ragged rocks to conduct this activity.
The ideal months to practice this sport in the Himalayas are from April to June.
The weather in South India is ideal for rock climbing throughout the year. In the Western zone November to April is good time for climbing in Western Ghats.
So go ahead and explore some virgin Rock peaks to experience the exhilaration of seeing nature's bounty from the pinnacle.