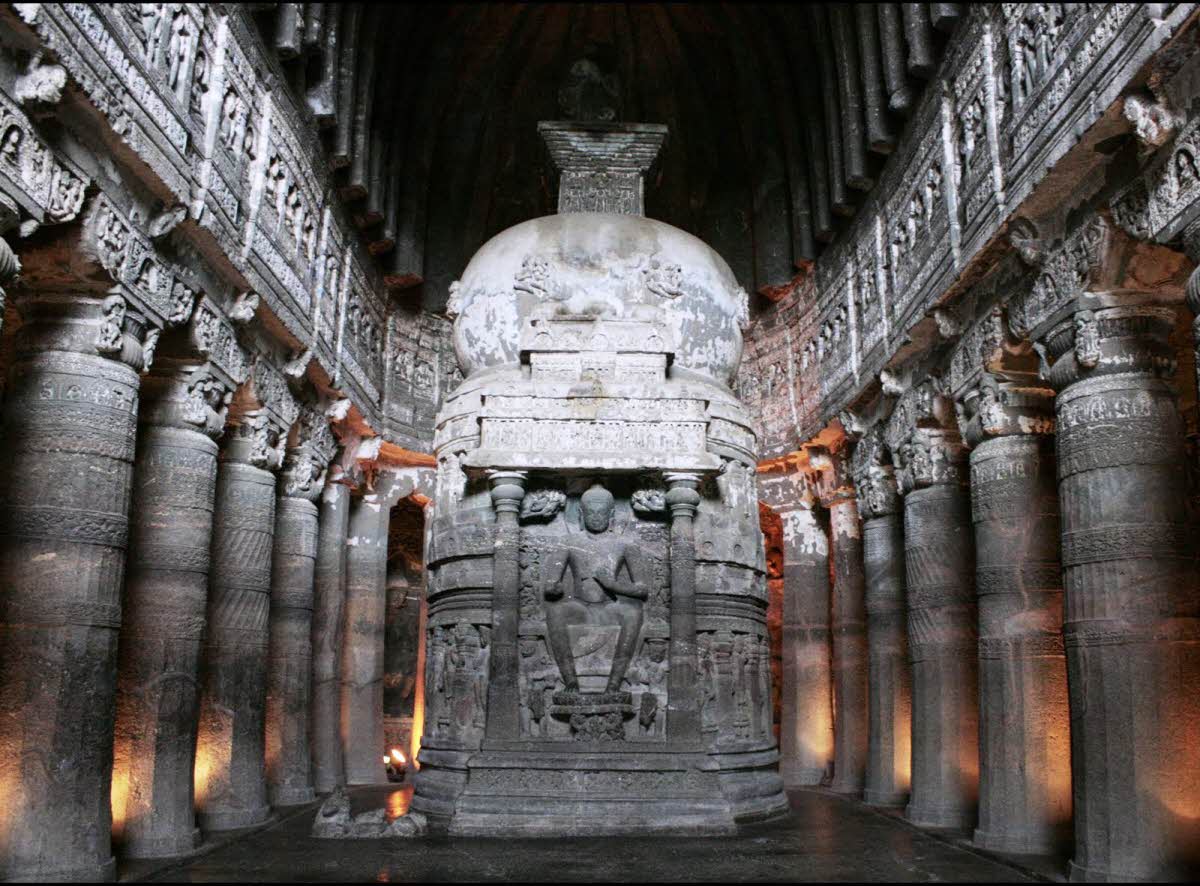 Explore Caves Destinations ( 49 )
Caves - Things to do
All of us remember studying about Stalagmites and Stalactites in our school days. But I wonder how many of us have had the good fortune to visit some of these natural or manmade caves in our country.
Caves have always been an object of interest to mankind. Most caves have archaeological significance. As per wiki a cave often is a natural underground space which is large enough for a human to enter. Some caves are natural caves formed by the forces of nature and they often extend deep underground.
A combination of chemical, physical forces and geological earth movements help in the formation of caves. Most caves formed are limestone caves which are formed after years of erosion and dissolution.
India is one of the few countries around the world which has a rich heritage of caves. We will list below some of the top tourist locales for caves in India:
Ajanta & Ellora Caves: Ajanta and Ellora Caves are some of the most popular destinations on the itinerary of any tourist. These caves carved out of rocks on the hillside are about 30 kms from Aurangabad. There are a total of 34 caves at Ellora dating from between the 6th and 11th centuries AD, and 29 caves at Ajanta dating back to between the 2nd century BC and 6th century AD. The caves at Ajanta are all Buddhist, while the caves at Ellora are a mixture of Buddhist, Hindu and Jain. These caves are a fine example of religious harmony which was practiced by people in those centuries. Ajanta caves are famous for the paintings on the walls of these magnificent caves.
Elephanta Island Caves: These are ancient caves which are situated on the Elephanta Island. This island is an hour long ferry ride from the Gateway of India at Mumbai. In 1987 this has been designated by UNESCO as a World Heritage site. The island itself is a picturesque island with rich flora and fauna. One of the main attractions of the Elephanta caves is the giant Mahesamurti which is the statue of Lord Shiva.
Badami: Badami which is located in the Bhagalkot district of Karnataka was the capital of the Chalukyan kingdom of the Gupta dynasty. The famous Badami caves are a set of four temples which are carved of soft limestone. Of these 4 temples are dedicated to Hindu gods and the fourth is a Hindu god.
Udayagiri and Khandagiri Caves: These caves are present in Orissa. Odisha is one of the few states in India with a rich heritage of temples, caves and other architectural places of interest. Many of these caves are very ornately carved out of hard rock of the nearby hills. Most of these caves were dwelling places or cells of Jain monks. Famous amongst these caves are the Tiger Cave (with an entrance carved like a tiger's mouth) and the large and revealing Queen's Palace Cave (with remains of Jain symbols and battle scenes). Khandagiri is across the road and also has a couple of caves popular amongst being the Ananta Gumpha or Snake Cave.
Lonavala Caves: Close to the financial hub of India is a small hillstation called Lonavla which is equally well known for some of it's caves like the Karla , Bedsa & Bhaja caves.
Some of the other states of the country which is popular for its caves are Tamil Nadu, Meghalaya and Madhya Pradesh.
A visit to most of these caves is needed as this is a good stress buster to most of us in this fast paced life. These caves and a little knowledge about the history of these places will help us to relax in their serenity!