Culture of Munnar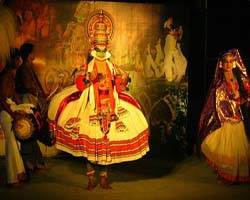 People
Madhuvans are the real inhabitants of Munnar. At their heart, people of Munnar are very simple and trustworthy. Their main occupation is tea plantation and their livelihood is completely dependant on it only. But, they are really very innocent and humble people.
Language and religion
Malayalam is the main language on the tongue of people of Munnar. Tamil is also preferred in Munnar. Malayalam is supposed to be one of the Dravidian languages of the South India.
In Munnar, people of different religions are found and the prominent ones are Jews, Jains, Muslims, Hindus, Christians and Buddhists.
Food
If we talk of food taken in Munnar, then the priority goes to Rice. Along with the rice, the people used to prepare curries of fish, vegetables and meat. The dishes in Munnar are flavored by making use of curry leaves, mustard seeds, coconut and also tamarind. The main breakfast in Munnar is "Puttu".
Local Festivals and Art and Music
Festivals in Munnar are celebrated at the full joy and bliss. The main festivals of Munnar are Attukul Pongala, Onam, Thrissur Pooram Festival, the Pongala Festival and Nehru Trophy Boat race.
Art in Munnar is really superb and Kuttiyatam, Kathakali and Kalaripayattu come under this category. The main classical dance famous in Munnar is Mohiniattam and is well-performed by the women only.
Things to do in Munnar ( 25 )