Culture of Jaipur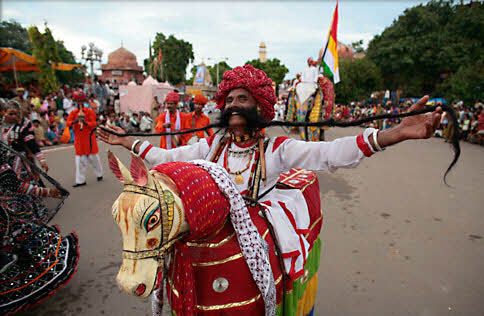 People
Jaipur is a land of vibrant culture and traditions, which reflects from the people of the city. People of Jaipur are of a religious nature and follow their old customs religiously. People of Jaipur are called Rajasthani. The person living in the rural areas of the city differs from the people living in the heart of the city. The rural people are different in their lifestyle, dressing and have rough appearances
Food
The cuisine of Jaipur reflects the royalty of the city. Foods are enriched with lots of ghee, mawa, and dry fruits and are very nutritious. Rajasthani Thalis are famous worldwide which include a variety of dishes. Some of the famous sweets of Jaipur are Mishri Mawa, Gulab sakri, Chougni ka laddu, Thal ki Barfi, Mohan Thal. Whereas some of the major cuisines are Dal-Bati Churma, Mawa Kachori, Besan Ka Gatta, Kair Sangri, Chakke Ki Sabji , Rabri, Makke ki roti and Bazre ki roti.
Language & Religion
The local language of Jaipur is Dhundhadi whereas Brajbhasha, the language of Braj, is used for different literary works. The commonly used language in Jaipur is Hindi. However some people speak Urdu and English as well. People here are very simple, co-operative and cultured. The majority of the people are Hindu or the followers of Sanatan Dharma, followed by some Muslims, Jains, Sikhs and Christians.
Local Festivals & Art and music
Main festivals celebrated in are Diwali Festival, Dussehra Festival, Ganesh Chaturthi Festival, Gangaur Festival, Holi Festival, Makar Sankranti or Kite Festival, Rakhi Festival and Teej Festival. Jaipur is famous all over the world for its unique arts and crafts. The city offers exquisite lacquer items, jewelry, puppets and quilts. Jaipur is famous for its folk as well as classical dance forms. Jaipur Kathak Gharana is a well-established classical Kathak Dance centre. Puppet dance or Kathputli Dance of Jaipur is a traditional form of entertainment for welcoming the visitors at this desert land.
Things to do in Jaipur ( 8 )