Camping in Ranthambore, Rajasthan
Must See
1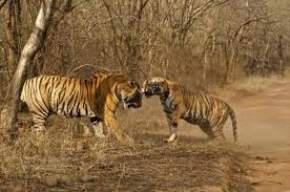 Ranthambore National Park
Land, Nature
Famous for: Home to endangered species of Bengal Tiger and other rare wild animals

---
Extended over a vast area of 400 sq km in an extensive woody trail, the Ranthambore National Park is holds a unique place in the historical and natural significance of the state. Blessed with a ...
Popular
2
Padam Talao
Land, Nature, Water
Famous for: Beautiful lake inside the national park with lotus

---
It is one of the largest lakes located in the premises of Ranthambore National Park. The pond gets its name due to the beautiful lotuses called as padams that grow inside the lake water. The Pad...
Things to do in Ranthambore ( 13 )