Ranthambore Tourism
| | | | |
| --- | --- | --- | --- |
| | 0 | | Reviews |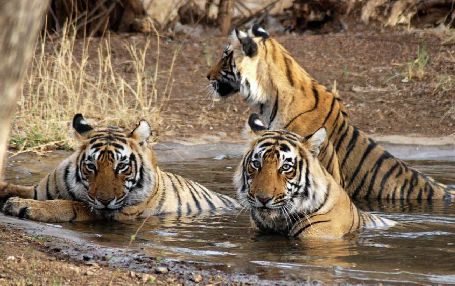 About Ranthambore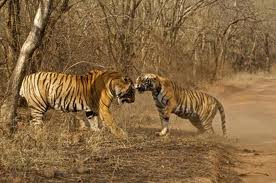 Ranthambore is a small hamlet located in the North West region of the state of Rajasthan and is one of the most precious jewels embedded in the crown of Rajasthan tourism. Sandwiched between Aravali and Vindhyachal Mountain ranges, this vibrant city lies in the close proximity to the Thar Desert. The city derives its name from the two hills of this region- Ran and Thambor and now is universally renowned for the Ranthambore Tiger Reserve which draws a huge crowd of tourists from all the corners of the world.
Richly famed for its Ranthambore National Park, the city is endowed with endless wealth of deciduous forest and abundance of flora and fauna which serve as a perfect shelter for varied species of wild animals. Blessed with rocky mountains, sandy smudges, evergreen grasslands, picturesque landscapes, shimmering lakes and mysterious gorges, Ranthambore is an ideal destination for nature and wildlife lovers.
In addition, the colorful land of Ranthambore is also inherited with a vibrant past and historical culture. With its ruined forts, crumbling walls, splendid palaces, destroyed chhatris and other fortified royal edifices, this royal Ranthambore offers you an interesting amalgam of heroic glory of bygone era with the bewitching charm of plenteous wildlife. Ranthambore is a picture perfect holiday destination dotted with the dazzling scenic landscapes, spectacular regal edifices and exotic flora and fauna which provides the tourists with an unusual experience of holidaying. The captivating stroll through the undulating natural vistas comprising wet grasslands, vast fields, wooded forests, gushing streams and deep valleys flanked by rolling hills would rejuvenate your mind and soul and fill your heart with loving memories to be cherished for lifetime. A visit to the city of Ranthambore will surely quench your thirst to experience the unique taste of Royal Rajasthan culture with the blend of rich wildlife.
Ranthambore Fast Facts
City: Ranthambore
District: Sawai Madhopur
State: Rajasthan
Country: India
Famous for/as: Bird Sanctuary, Bird Watching, Camping, Lakes, Monuments, Picnic, Wildlife
Best Season: Oct to April
Summer: 23 to 45°C
Winter: 4 to 32°C
Rain: July to Sept
Area: 392 km2
Altitude: 215 to 505 m
PIN Code: 322001
STD Code: 07462
Ranthambore News Papers
Hindi: Dainik Bhaskar, Rajasthan Patrika
Languages: Mewari, Hindi, English
10 Places to Visit in Ranthambore