Ahmedabad Food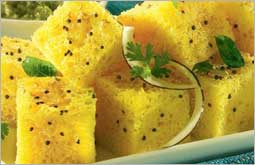 The Ahmedabad city provides a wonderful culinary experience to the tourists. Visitors can enjoy eating some common food items such as rice, rotis, dals, and a combination of vegetable varieties and sweet dishes. There are several numbers of restaurants and hotels in the Ahmedabad city. Tourists can select multi-cuisine hotels or restaurants from several top-class restaurants available in the city.
Bakery foods, sweets and ice-creams are also famous in the Ahmedabad city, because of plenty of dairy projects in the Gujarat state. The special dishes in the Gujarat include Khandvi, Dhokla, Haandvo, Srikhand and Bhajiya.
Amazo Restaurant
This restaurant specializes in a variety of vegetarian cuisines. Amozo restaurant also provides Mexican foods and Italian foods for the visitors.
Vishala restaurant
Vishala restaurant is famous in providing Tasty "Thali" meals. It features various pre-dinner events like folk dance, puppet-show for children etc.
Havmor
Havmor restaurant is well famed for its Chola Bhatura, which is a popular North Indian dish. It provides several varieties of tasty cuisines and other items like ice-creams including Cassata Roll cut, Raja Rani, and Tall beauty.
Pudding
This is the best place for eating both non-veg foods and vegetarian foods. Visitors can enjoy eating the tasty Hydrabadi Briyani in this restaurant.
The other restaurant such as "House of MG" and "Swati Snacks" are also famous for providing Gujarati foods.