Culture of Ahmedabad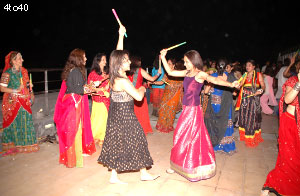 Ahmedabad city is famous for its diversified traditions. People of Ahmedabad are friendly enough to celebrate each and every popular festival like Navrati and some other festivals. Ahmedabad people are great lovers of vegetarian food. Ahmedabad has a rich cultural tradition.
People
Ahmedabad people are energetic and treasure each and every minute of their life. They believe in living life in a simple manner. When it is the time for celebration, the whole city gets eager and celebrates the celebratory moments with enthusiasm and passion.
Languages
Ahmedabad lies in the state of Gujarat, due to this fact Gujarati is the most extensively spoken language in Ahmedabad. English and Hindi are two frequently speaking languages in Ahmedabad.
Food
Ahmedabad is a heaven for food lovers. The traditional Gujarati thali, which is served in most of the eating places in the city, consists of genuine delicious dishes. Gujarati people are mainly vegetarians. However, non-vegetarian dishes are also obtainable in the restaurants. People can get more variety of non-vegetarian dishes in Chinese, Indian, Thai, Italian and international restaurants. The most common food items are Roti, Kadhi, Dal, Rice, Bath, Dhokala, Theplas, and Kadhi Drihand. Ice cream is also very famous in Ahmedabad.
Things to do in Ahmedabad ( 16 )